Walmart Yellowknife Store, Northwest Territories

(department store ) - Location & Hours
Store Details
313 Old Airport Road

Yellowknife
,
Northwest Territories
X1A 3T3
Borden & Old Airport Rd
Phone: 867-873-4545
Fax: 867-873-4761
Regular Store Hours
Mon. : 7:00am - 10:00pm
Tues. : 7:00am - 10:00pm
Wed. : 7:00am - 10:00pm
Thu. : 7:00am - 10:00pm
Fri. : 7:00am - 10:00pm
Sat. : 7:00am - 10:00pm
Sun. : 7:00am - 10:00pm

Store hours may vary due to seasonality.
Price: $6.82
Pure Balance believes in one pure and simple thought the best nutrition for your dog starts with the best ingredients. Pure Balance Wild & Free Bison, Pea & Venison Recipe is made with carefully selected ingredients to ensure your dog gets all the nutrition he needs without any of the extra stuff he doesn't. This Grain Free contains no corn, wheat, soy or grains making this ideal for dogs with food sensitivities. Our first ingredient is real bison. This along with real venison helps build lean muscle mass in your dog so he can run, jump and play. Antioxidants like vitamins E and C help support and keep your dog's heart & immune system healthy.
Real Bison is the first ingredient
No Corn, Wheat Soy or Grains
Natural ingredients with added vitamins & minerals
No fillers, No artificial flavors, artificial preservatives or artificial colors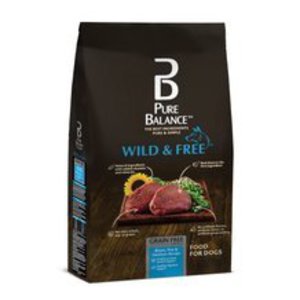 Advertisements
Store Services/Products
McDonald's
Pharmacy
Walmart Photo Centre
Western Union
Store Departments
McDonalds
McDonalds hours:
Mon - Sun: 8AM - 9PM

Pharmacy 867-873-8520
Pharmacy hours:
Mon - Fri: 9AM - 9PM
Saturday: 9AM - 6PM
Sunday: 9AM - 6PM

Photo Centre 867-873-4764
Photo Centre hours:
Mon - Fri: 8AM - 9PM
Saturday: 9AM - 9PM
Sunday: 9AM - 6PM

Tire & Lube Express Centres
Tire & Lube Express Centres hours:
Mon - Fri: 8AM - 9PM
Saturday: 8AM - 6PM
Sunday: 9AM - 6PM